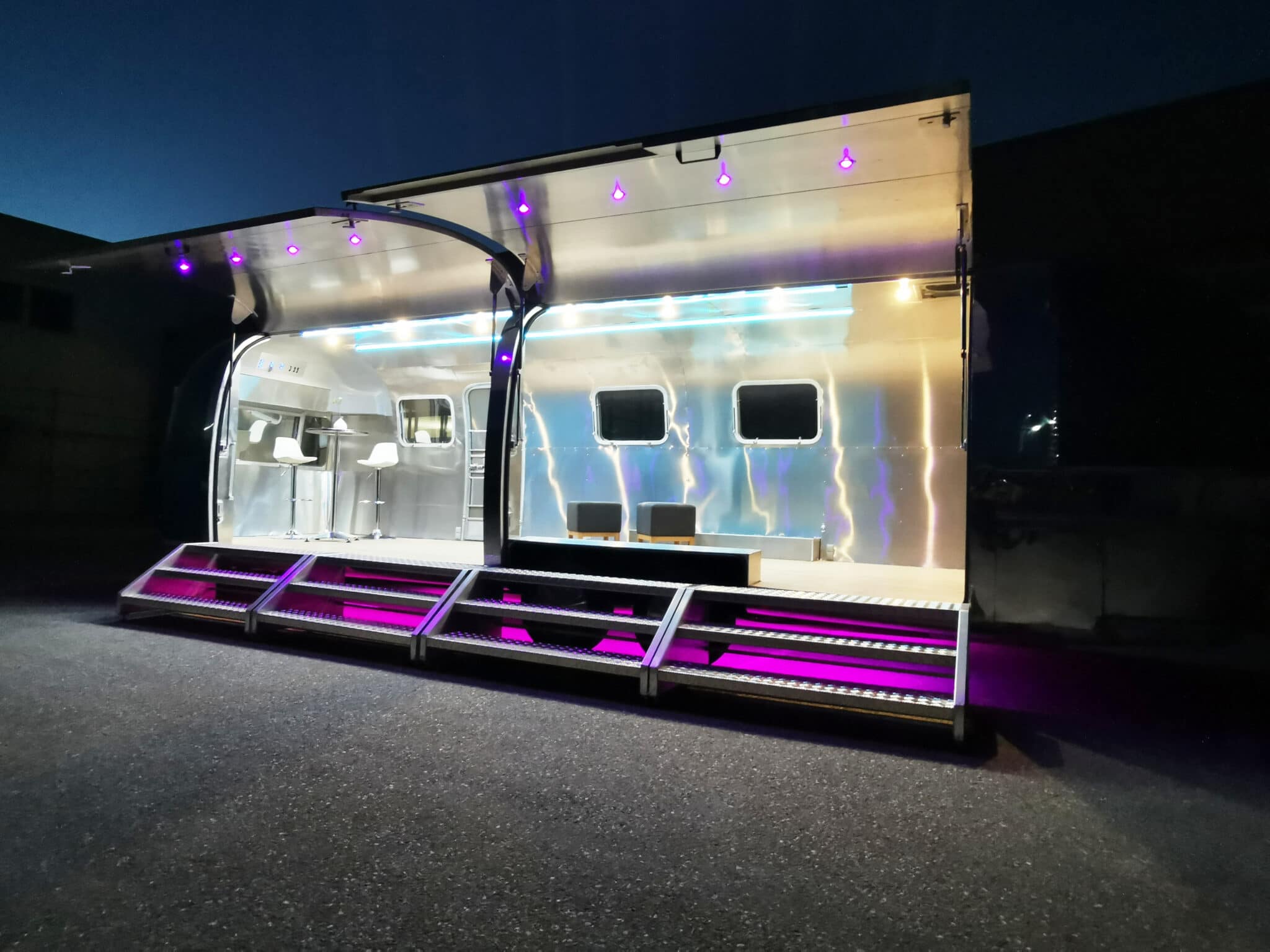 Regardless of whether it is a roadshow, concert or trade fair.
In our Airstream Mobile Gastro Stage you can put your product in the limelight at every event.
The Airstream Mobile Gastro Stage offers up to 30 m2 Stage area
The stage area can be increased by 12 m with scissor platforms2 at about 30 m2 be extended forward.
Fully equipped kitchen with stainless steel fronts included!
The event trailer shines inside in bare aluminum and is equipped with a small kitchen in the rear. In addition to two induction hobs and an undercounter refrigerator, there is also a large stainless steel sink. Under the oak worktop, the stainless steel base cabinets offer generously dimensioned storage space.
The water is supplied via standardized connections for fresh water and waste water.
All lighting in RGB LED
Our Airstream Trailer impresses with its highly polished outer shell made of high-purity aluminum. Because only the underbody lighting in RGB LED puts the trailer in the right light at night.
The inside of the mobile stage is also equipped with RGB LEDs throughout. This allows you to illuminate your products according to your ideas. There are hardly any limits to your creativity.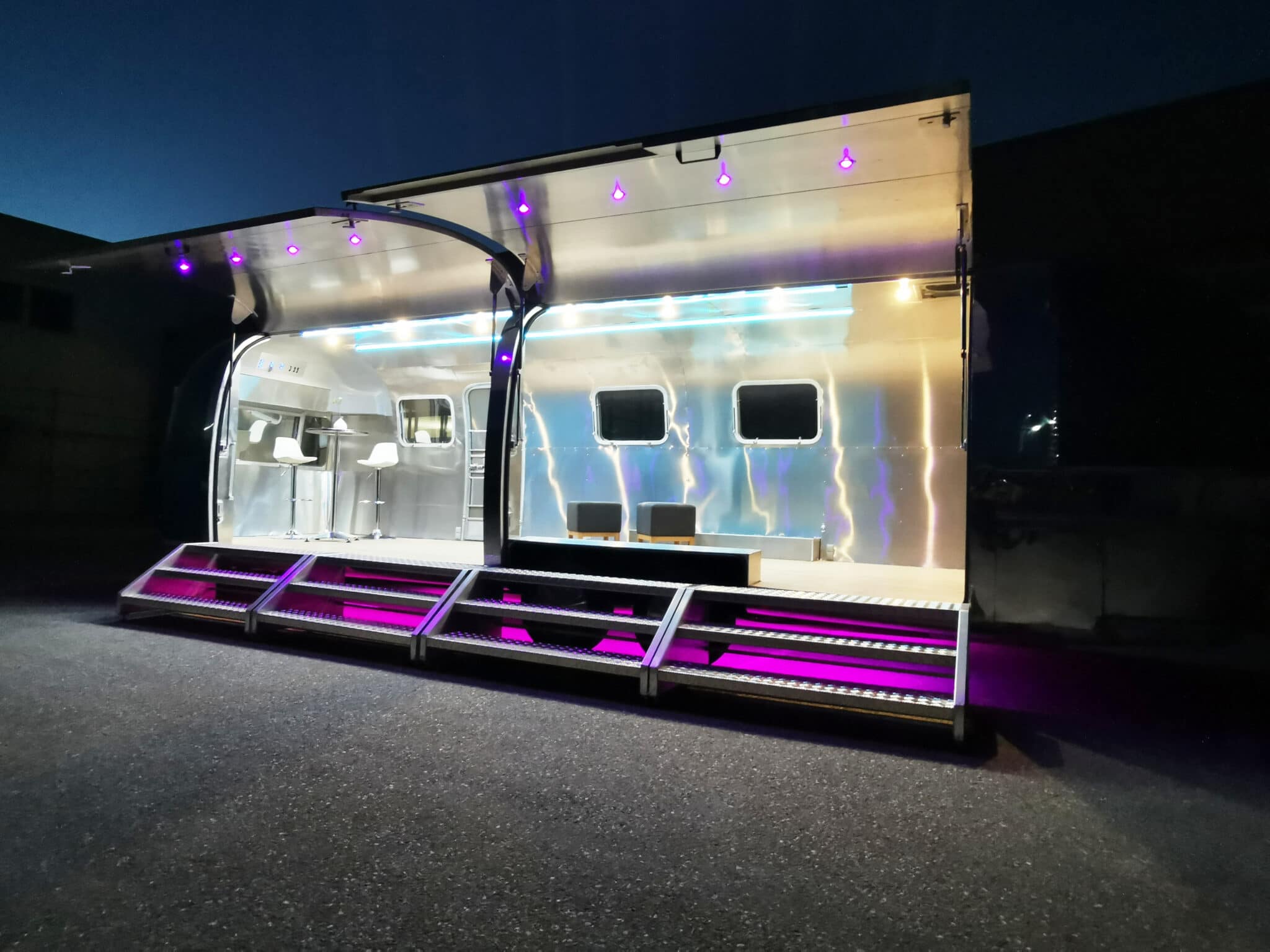 Your benefits at a glance:
short assembly time
easy to transport
Lighting in the company colors
Attention guaranteed
Comprehensive insurance
Cleaning included in the rental price
individual branding possible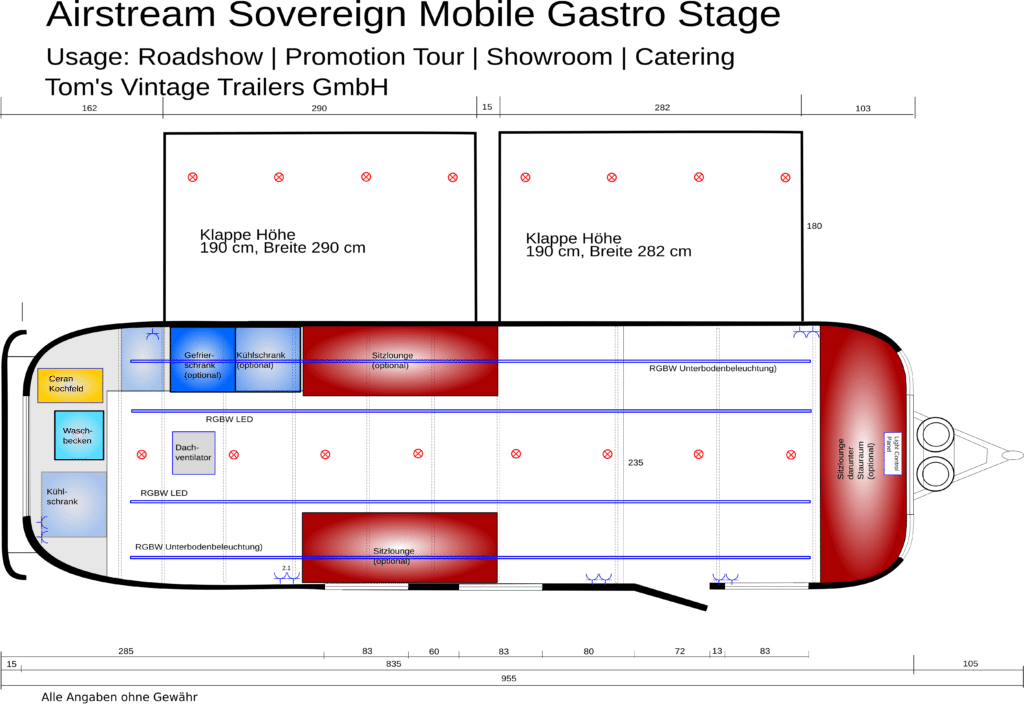 Technical data:
Model: Airstream Sovereign
Total length: ~ 9,70 m / 31 feet
Body length: ~ 8,40 m
Height: ~ 2,80 m
Width: 2,45 m
Empty weight: 1941 kg
Perm. Total weight: up to 2600 kg
Available: immediately / location Ried im Innkreis
FAQ's Airstream rental
No. The case is very sensitive to scratches. Only cotton cloths and glass cleaner or dishwashing detergent with distilled water may be used for cleaning.
Yes, if you have ordered the trailer including fully comprehensive insurance.
However, you should note the following:
The outer shell is made of ~ 0,8 mm AlClad aluminum and is very pressure-sensitive. The risk of damage is therefore very high.
If the trailer has to be moved, please contact us. We will find a solution.
Yes. For a small surcharge, the trailer can be rented with fully comprehensive insurance and then transported by the tenant. We would be happy to take care of the transport for you.
Yes, we offer individual branding for our trailers.
FAQ's food trailer sales
In Austria, the regulations for gas-powered food trailers are very strict. We recommend using electrical appliances here. In Germany the regulations are different and we can also offer all gastro appliances as gas versions.
Our trailers are equipped with a fixed water connection for fresh water and a connection for waste water, but in specific cases can also be operated with water tank systems.
That depends largely on the intended use. While event vehicles are typically operated with 220V / 13 or 16 A, a 400 V / 16 or 32 A connection is typical for food trailers.
Depending on the requirements, there are many configuration options here, including with gas.
Depending on the model and the weight of the trailer, different towing vehicles can be used.
From a dead weight of more than 2,5 tons, however, only heavy SUVs, off-road vehicles or trucks come into question.
The towing vehicle must have a commercially available ball coupling and a 12V power supply for trailers. We use 7-pin plugs as standard.
Yes, we offer the transport of the vehicles. Please ask for an individual offer.
Airstreams are usually made of naturally polished aluminum. The food trailer ETY is available in all RAL colors inside and outside.
With our ETY food trailer, it normally takes 14 to 16 weeks from placing the order to delivery. However, there may be seasonal deviations. In the case of individual vintage Airstream conversions, the delivery time depends on the scope of the commissioned work.
Yes, we can offer 3D planning on request. However, since this can usually be very time-consuming, we have to calculate this work in advance. When the order is placed, these costs are offset against the total order.
50% is due after placing the order before the start of production. The remaining 50% after acceptance by the customer before delivery.
Our vehicles are approved by the Upper Austrian state government and can therefore be operated within the EU.
We produce our products together with our regional partners with many years of experience.
However, since there are no uniform regulations here, the customer / operator must carry out the acceptance at the competent authority.
Inquire about the regulations at your desired location in good time.
Yes, the rental of Airstream event vehicles and food trailers is one of our core businesses. See: Airstream rental.
We produce to order and therefore, with the exception of our rental vehicles, generally do not have any vehicles in stock.
You are welcome to view our rental vehicles by making an appointment.